Join Our Company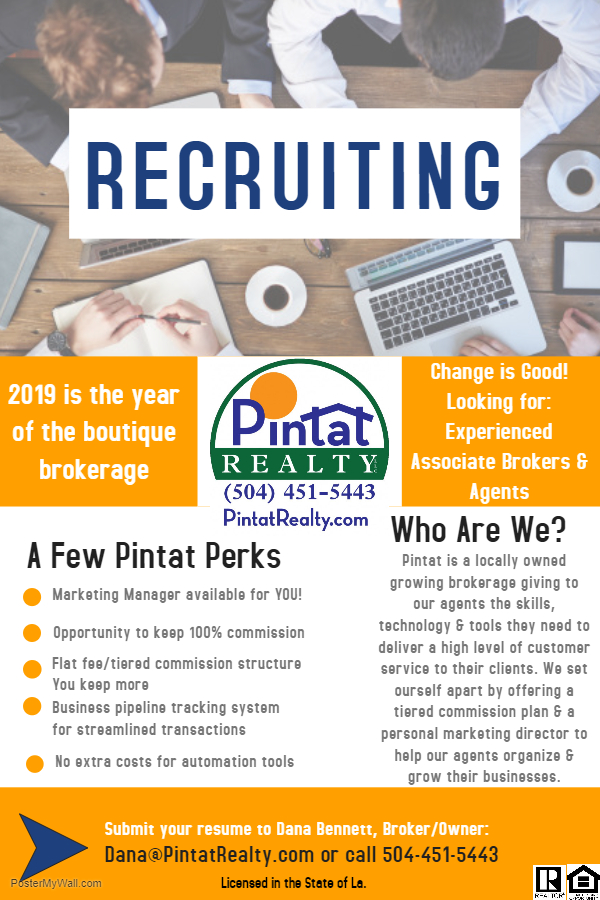 Invest In & Be Yourself!
We are locally owned & believe that success & earnings are unlimited. There are lots
of opportunities in the real estate world to spend way too much money with NO ROI.
We at are committed to guiding our agents on what works & what doesn't so that you
keep more of what you earn and are not spending money on what doesn't work.
We are committed to being a real estate brokerage that does things a little differently.
After all, this is New Orleans. We are different. We offer our agents opportunity to grow
their own businesses. We offer industry-leading marketing programs, experienced
leadership, training and the tools and technology for agents who want to reach their goals.
As a solo broker, the Pintat Brand is out there selling over $7.4 million in 2018!
Being a realtor is an extremely rewarding career and about building
relationships.
If you have a desire to commit to the goal of unlimited earnings,
have customer service skills or if you are an experienced realtor wanting
to keep more of what you earn consider Pintat Realty.
Contact Dana Bennett, Principal Operating Broker for a
CONFIDENTIAL Interview
504-451-5443 dana@pintatrealty.com